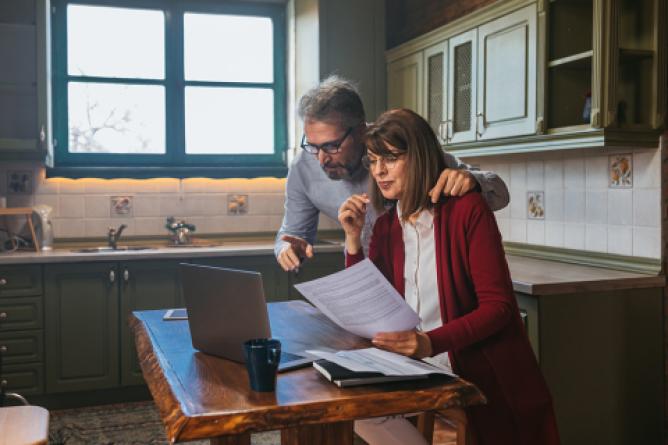 Managing your money can be challenging, but it is essential. Good money management practices can impact your ability to afford necessities or help you identify overspending and splurging on unnecessary purchases. It can be the difference between feeling overwhelmed or in control of the money you have coming in versus the money going out. Utilizing a budgeting application is a great way to keep track of your spending and manage your money - but how do you use a budgeting app? We will explore details surrounding budgeting apps, such as what they are, what safety precautions to take, and much more.
How Budgeting Apps Work
A budgeting application is a great way to track your spending and help you learn how to manage your money better. While many budgeting apps have similar goals, each app is still unique.
In utilizing a budget application, you can:
Track spending.
Monitor bill due dates and pay bills.
Save for future goals.
Utilizing a budgeting app is pretty simple. Many allow you to connect bank accounts and credit and debit cards to make tracking your spending a breeze. In addition, some applications will help you set and reach your goals while teaching you to manage your money efficiently.
Are Budgeting Apps Safe?
Budget applications use security software to protect users from falling victim to a data breach. However, they are not a solid fortress. Therefore, it is essential to practice safe internet practices when using a budgeting app. Safe internet practices involve:
Not reusing the same password.
Creating passwords that will be difficult to replicate.
Not clicking any links that you are unsure of validity.
A budgeting app is similar to a financial institution regarding safety measures and concerns. For example, you would not create a PIN or password for your banking account information that is guessable, and your budget app should be no different.
Tech experts recommend that you only utilize budgeting apps that are well-known and reputable to protect yourself against fraud. Scammers will try to attack you from every angle. Therefore, using a budget app that does not have a history of fraud or cyber-attacks will better protect you and your personal information.
Experts also recommend maintaining software updates on whichever budgeting app you choose to download. Updates provided by the company help ensure the app is in proper working condition and help to protect the user.
Pros and Cons of Budgeting Apps
There are many pros and cons to using a budgeting app, and we have outlined a few of the most commonly reported below.
Pros
Convenience: Over the last decade or so, budgeting apps have grown in popularity, compared to the old way of tracking spending by creating a spreadsheet for each month. By utilizing a budgeting app on your smartphone, you have your budget right at your fingertips regardless of where you go.
Easy to use: Most budget apps on the market today are pretty straightforward to use. All you have to do is sync your accounts, answer a few questions regarding income coming in versus spending each month, and provide a few goals - the app does the rest!
An awareness of finances: Many people who use debit or credit cards for their purchases swipe the card and go on about their day without tracking the expense. A budgeting app continually tracks all purchases made through linked accounts and cards to help keep the user aware of spending, leading to necessary adjustments.
Cons
Lack of commitment and attention: Many people who utilize a budgeting app have good intentions when setting up their accounts. Yet, research has shown a lack of commitment and follow-through regarding maintaining the goals set.
Not changing behaviors: An individual that struggles with financial decision-making will not benefit if they do not use the information the app provides to change their negative behavior patterns.
Zero accountability: There are no repercussions for failing to stick to a budget plan set in place through a budgeting app. Individuals are free to continue making poor decisions even though they have downloaded an app to "help."
Takeaway
A budgeting app is a great tool to help you set goals, track expenses, and monitor your spending. However, if you are looking for a positive outcome using the app, maintaining your budget is the best bet. Remember to do your due diligence in choosing the right budgeting app to suit your specific needs and ensure the safety of your personal information.